Hi everyone,
I grabbed this colt like around a month ago and starter motor died already. It might be because of me I think I was pushing too hard ignition, one day it just stopped and some smoke come out of the starter motor. So I wanna take it out but before that I gotta lift the car as I couldnt reach the starter motor from the bonnet.
Can anyone help me locate the jacking points. I have 2 jack stands up to 6Tonnes, I am also quite newbie, thats why some super basic
questions, but I wanna make sure, Ideally I wouldnt like to die trying to fix this.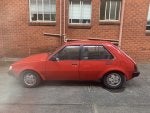 based on the manual, I m guessing the front Jacking points are these:
Front Jack point, based on the manual but it is a bit vague on the manual so I wanna make sure if this is the right one:
Rear Jacking Point
Are these correct, does anyone who knows this car can confirm?
This is the starter motor, where I m going to reach to you can barely see it between some cables:
Latest Update:
Does this look good enough to you?
I am going to put the other side on the jack points the same way as this one. I am honestly still scared of going under the car, another thing I might do is put like spare tyres under the tyres, just in case.
Update:
So these jack points are all correct. I was able to lift and go under the car however I wasnt able to reach to the starter motor Bolts to take it out. It seemed almost impossible. I don't know what to do at this point other than take it to a mechanic