Discussion Starter
•
#1
•
some mitsubishis their fault codes can be read this way
diagnostic with LED/CEL light methods for mitsubishis -yet - to be added
fault codes specific to mitsubishis - yet to be added --
This system is called obd1 and applies to most vehicles made before 1995 for domestics and 1993 on imports.
On board diagnostic (OBD) was designed on vehicles equipped with electronic fuel injection so you can generally retrieve the codes yourself.
the paper clip method is bridge only two pins at the diagnostic plug
one is the earth wire----- the other reads the ECU direct (you must know which pins to bridge .some
vehicles use different pins
)
one of the pins in any diagnostic plug is 12 volts so earthing that one pin is to be avoided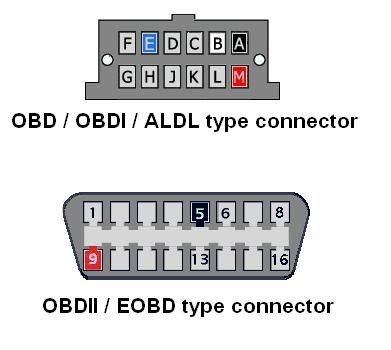 diagnostics
with the correct pins bridged you have no accessories
and turn the key to on so the dash lights show ----- never start the car
wait for the light to flash
reading the code
- the engine light flashs ..
- an LED test light flashing
- a volt meter with a sweeping arm to count sweep lengths --- A digital readout type meter is no use
count long flash as a ten and a short flash as a digit
Counting the codes being flashed is almost the same for these vehicles and most of the codes can be erased or cleared by disconnecting the battery negative terminal for 1 minute and reconnect.
or you can remove the EFI computer Fuse (Engine Bay )
make sure to check your service manual in case you have electronic equipment such as radio or clock that needs a code or reprogramming in which battery disconnection is not recommended. Finally after performing repairs on the culprit code, always go for a road test to confirm if the problem is fixed.
OBD-1 Diagnostic Trouble Codes all vehicles
obd1 can only be used for 1995-previous model year EFI-equipped vehicles. not after 1995
NOTE: Some codes not supported on all models, consult your specific vehicle's service manual for the correct trouble code list and description for your application.
DTC - 12 No distributor reference pulse (diagnostic test active)
DTC - 13 Oxygen sensor circuit open or no activity
DTC - 13 Left bank O2 sensor circuit open or no activity
DTC - 14 Engine coolant temp sensor error (high temp indicated)
DTC - 15 Engine coolant temp sensor error (low temp indicated)
DTC - 16 System voltage too low
DTC - 17 Camshaft position sensor error
DTC - 21 Throttle Position sensor error (signal high)
DTC - 22 Throttle position sensor error (signal low)
DTC - 23 Intake air temp sensor error (low temp indicated)
DTC - 24 Vehicle speed sensor error (open circuit or no activity)
DTC - 25 Intake air temp sensor error (high temp indicated)
DTC - 26 Quad Driver Module (QDM A) error
DTC - 28 Auto transmission range pressure switch error
DTC - 31 Wastegate solenoid circuit error
DTC - 31 Gear Position Switch (PRNDL) error
DTC - 32 EGR system failure
DTC - 33 MAP sensor circuit error (signal high indicating low vacuum)
DTC - 34 MAP sensor circuit error (signal low indicating high vacuum)
DTC - 35 IAC problem or idle error
DTC - 36 MAF sensor error
DTC - 36 24x Crankshaft position sensor circuit error
DTC - 36 4T60-E Shifting Error
DTC - 37 TCC brake switch circuit error
DTC - 38 TCC brake switch circuit error
DTC - 39 Clutch switch circuit error
DTC - 39 TCC error
DTC - 41 Ignition control error
DTC - 41 MEM-CAL error
DTC - 41 C³I Cam Sensor Signal error
DTC - 42 Ignition bypass circuit error
DTC - 43 Knock sensor error
DTC - 44 Oxygen sensor error (lean condition indicated)
DTC - 44 Left bank O2 sensor error (lean condition indicated)
DTC - 45 Oxygen sensor error (rich condition indicated)
DTC - 45 Left bank O2 sensor error (rich condition indicated)
DTC - 46 Pass-Key II (VATS) system error - circuit out of freq range
DTC - 47 UART (serial data) circuit error
DTC - 51 PROM error
DTC - 51 Incorrect MEM-CAL
DTC - 52 Fuel cal-pak incorrect or missing
DTC - 53 System voltage too high
DTC - 53 Digital EGR Valve solenoid 1 error
DTC - 54 Fuel pump circuit low voltage
DTC - 54 Digital EGR Valve solenoid 2 error
DTC - 55 ECM error
DTC - 55 Digital EGR Valve solenoid 3 error
DTC - 56 Quad Driver Module (QDM B) error
DTC - 57 Boost Control error
DTC - 58 Trans fluid temp sensor circuit error (low voltage)
DTC - 58 VATS system error
DTC - 59 Trans fluid temp sensor circuit error (high voltage)
DTC - 61 A/C system performance
DTC - 63 Right bank O2 sensor circuit error
DTC - 63 MAP sensor circuit signal voltage high (low vacuum indicated)
DTC - 64 Right bank O2 sensor lean exhaust indicated
DTC - 64 MAP sensor circuit signal voltage low (high vacuum indicated)
DTC - 65 Right bank O2 sensor rich exhaust indicated
DTC - 66 A/C pressure sensor circuit error (low pressure indicated)
DTC - 67 A/C pressure sensor circuit error
DTC - 68 A/C clutch relay circuit error (shorted to ground)
DTC - 69 A/C clutch relay circuit error (open circuit indicated)
DTC - 69 A/C high pressure switch error
DTC - 70 A/C pressure sensor circuit error (high pressure indicated)
DTC - 71 A/C evaporator temp sensor circuit error (low temp indicated)
DTC - 72 VSS signal circuit error
DTC - 73 A/C evaporator temp sensor circuit error (high temp indicated)
DTC - 75 Digital EGR solenoid #1 circuit error
DTC - 76 Digital EGR solenoid #2 circuit error
DTC - 77 Digital EGR solenoid #3 circuit error
DTC - 79 Transmission fluid overtemp
DTC - 80 Transmission component slipping
DTC - 82 3x Crankshaft position sensor circuit error
DTC - 85 PROM error
DTC - 86 A/D error
DTC - 87 EEPROM error (flash memory error)
DTC - 90 TCC error
DTC - 93 Transmission pressure control solenoid circuit error
DTC - 96 Transmission system voltage low
DTC - 98 Invalid PCM program
DTC - 99 Invalid PCM program